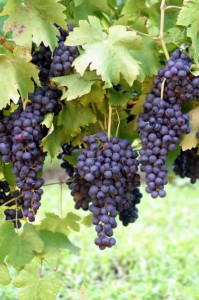 Since I can remember I have always had a fascination with the grape.  As far back as kindergarten I recall drawing and coloring them as my first fruit of choice.  Perhaps it was the variety of colors, their patina, the way they clustered, or even the way they tasted. At that young age I did not realize the impact that the juice of the pressed vine would have on my life.  In my family my father enjoyed a variety of fermented beverages but my mother was not a huge fan.  So when it came to the enjoyment of wine I was somewhat of a late bloomer.
I come from a large family, and on the front end mostly girls, five to be precise, with two boys being the youngest.  We were always entertaining at our house and I recall the first wine I served my guest, it was a bottle of Manischewitz. I recall my visit to the wine store, overwhelming at the time. I knew very little about wine but I loved the shape of the bottles, the beautiful picture of grapes and the bold deep burgundy color of the wine. Perhaps I was also influenced by the bottle of Manischewitz my grandfather kept hidden in the back of his cupboard.  At that time I did not have an opportunity to taste it, but I do recall him telling me that he would take a sip every now and then and that it was good for his health.  That was a long time ago and my taste, wine choices, and knowledge of wines have changed over the years.
These are some of the events that started my fascination with the grape and the juice of the vine pressed. When I started my career in the hospitality industry that interest grew even more because as a meeting and event planner I am often called on to recommend or make wine selections.  If you are a meeting planner, or know someone who is, then you understand exactly what I mean.  Please accept my personal invitation to follow my blog.  I will be covering many interesting aspects of wine from its origin, types of wines, and many of the up and coming brands.  I don't think you will be disappointed.
I would enjoy reading your comments.  Stay tuned there is much more to come!