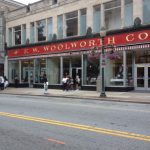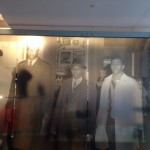 Do you recognize this location?  It has a very popular downtown walking area.  If you stay at the right property you are in walking distance to the International Civil Rights Museum, numerous restaurants and lots of shopping venues. It has an aquatic center that is almost 80,000 square feet.  It is home to Bennett College and it has many beautiful gardens, arboretums, a cultural center at Festival Park and lots of fun activities. Remember that I am only listing a few of the gems that you or a group can enjoy especially in the summer months. 
I was there the beginning of August for a social function (family reunion) and had an enjoyable time.  Have you guessed the location?  You are right!  It is Greensboro, NC.  I have visited the State of North Carolina for other types of meetings and events and including this destination to my list was a plus. It is certainly a great location for a meeting.  My group loved the fact that once they arrived at the Downtown Marriott they could park their cars and for the next few days relax, enjoy fellowship, share family stories, enjoy good food and experience southern hospitality.
Speaking of good food, the welcome reception opened with a spread of home prepared hors d'oeuvres and southern dishes. It was not difficult for the guests to realize they had returned to the south, and were some place close to their upbringing.  Everyone had a wonderful evening sharing stories about their travels, family updates and how they planned to enjoy the remainder of their visit together.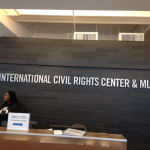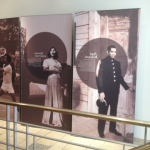 After breakfast on Saturday morning we headed off to visit the International Civil Rights Museum three short blocks from the hotel.  For the baby boomers and seniors the video reenactments and displays took them back down memory lane as they relived some of the civil right struggles and accomplishments. It was nice to see the young people ask questions and express such an interest as they toured the museum. Many of them were not even born during the movement so seeing them express such an appreciation for this educational venue was heartwarming.  The museum limits picture taking but I was able to take a few photos in the lobby area before our 1.5 hour tour of the facility. If you are in the area this museum is a must see tour. You will appreciate the brave efforts and displays of courage by mostly young people at the time who paved the way for all people to live and experience the American Dream. This museum should be put on your bucket list. I think you will agree there is a lot to do and see in Greensboro. NC.  I also want to thank the Greensboro CVB for their support and assistance with this family reunion.
By: Lenise Fourcault