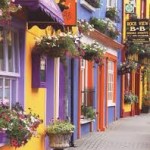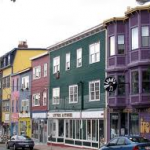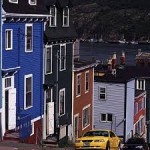 Recently I had the distinct pleasure of visiting a place I had never been to before. The purpose of my trip was to locate a destination for an incentive group. Some place that would have an overwhelming appeal. The mission was to identify a place with a feel of the great outdoors, lots of water sporting activities, museums, several team building options, good food and lots of fun. Personally I wanted it to be stimulating, rugged, charming, and possess a compelling story.
The destination is Newfoundland and Labrador, it had all of the above, and more. The narrow colorful row homes seen above with the small doors and windows were seen all throughout St. John's and the surrounding towns.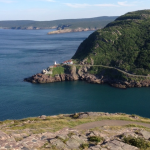 My explorations started in the small town of St. John's. I found the residents to be friendly, energetic, and spirited. They showed a deep concern and interest in visitors. I had the feeling I had been there before but I think it was because St. John's is the kind of place that reminds you of so many other places. So far up in the North Atlantic Ocean, I even had the feeling I was in the Caribbean. Mind you my visit was during the summer! With the bright sunny days and clear blue skies it was not difficult visualizing the Caribbean.
Newfoundland and Labrador is a destination appreciated with pictures. What a beautiful coastline, small islands, icebergs and as much ocean as the eyes can see.  You will probably feel like I did, it is many destinations in one destination. I found what I was looking for!
As for the compelling stories there are many. Some told in legends and others put to music. They even have their own dog named after the country, the Newfoundland.  He is a large strong working dog used to pull nets for fisherman and haul wood from the forest.  He is well suited to work on land or water, known to be a good swimmer and equally strong "pack horse." Sweet-natured and responsive, he makes a wonderful family companion as well.  The Labrador Retriever also hails from this area of Canada.
Oh almost forgot, tradition has it that before you depart St. John's you must kiss the cod.  That's a long story, but I kept with tradition!
By Rosa L. McArthur