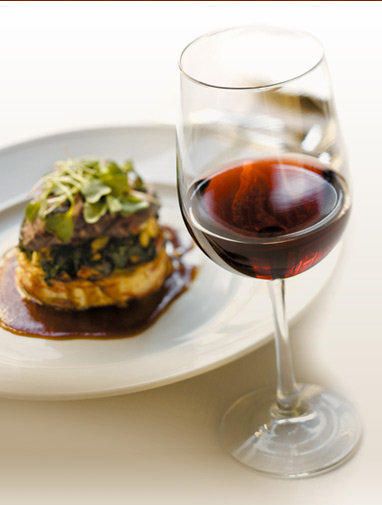 Most of us are familiar with the Love and Marriage tune.  It was performed by Frank Sinatra and written by Sammy Cahn and Jimmy Van Heusen.  It starts off like this….
Love and marriage, love and marriage,
Go together like a horse and carriage,
This I tell ya, brother, you can't have one without the other.
You may recall some years ago a well known soup company changed the lyrics somewhat and it went like this…..
Soup and sandwich, soup and sandwich,
Go together like a scratch and hand itch.
Let me tell you my brother, you can't have one without the other.
Well I decided to add my lyric change to the mix.  It starts off like this….
Food and beverage, food and beverage,
Go together like wine and fine dining,
This I tell you brother, its better when you have one with the other.
Well that is my way of saying what a perfect pair.  Have you ever seen a better complement? A well selected wine can bring the best out of a meal and a delicious meal is best served with a great wine. Yet you can still enjoy one without the other.  Wow! It works both ways. It doesn't get much better than that.
Traditionally it has been said certain meats like beef, lamb, pork and poultry are best paired with a specific type of wine. That is a true statement, but it is not that simple; you also have to consider how the dish is prepared. Will the meat be lightly seasoned and grilled, spicy with a thick sauce as in the case of barbeque or sweetened like some Asian dishes?  Let me share what is traditionally recommended for less conventional preparations:
Beef – Cabernet Sauvignon, Merlot, Red Bordeaux, Shiraz
Pork – Beaujolais, Sauvignon, basic Chardonnay,
Lamb – Red Bordeaux, Cabernet Sauvignon
Poultry – Chardonnay, White Burgundy, Sauvignon Blanc, Pinot Noir
If you would like to add your preferences to the list,  please share your comments!
By: Rosa L. McArthur