Walkway Over the Hudson – Poughkeepsie, NY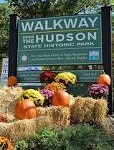 Walking over a bridge has a special and unique feeling for me.  Even though I have probably walked over a few small ones in my lifetime, the most significant was the Walkway over the Hudson, connecting the cities of Poughkeepsie and Highland, NY, and the second was the walk over the Brooklyn Bridge connecting Brooklyn with Manhattan.
Both experiences were truly breathtaking. The views from that platform certainly change the entire perspective of what you see. The Hudson River stretches so far and for some reason it made me think of all the history
making men and women connected to that river and that area of NY. This walkway is enjoyed by the community and visitors alike. As I walked across my eyes feasted on the beautiful fall foliage as I experienced a pleasant workout after my over a mile walk.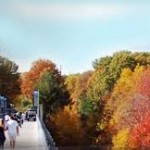 The walkway is a part of a restoration project which was completed in October 2009. It is now known as the Walkway Over the Hudson State Historic Park. I wondered if this bridge could be used for events and to my delight I was happy to know that it is a major focal point for all kinds of events. From intimate wedding ceremonies to fundraisers involving thousands of people, Walkway Over the Hudson provides a unique venue for celebrations, marches, recreational gatherings, and other high visibility public events.
If your travels take you to Upstate New York, and you find yourself in or near Poughkeepsie make an effort to take the walk.  It is time well spent and you won't regret it!
Noteworthy facts about the walkway:
Crosses: Hudson River
Length: 6,768 Feet (1.28 miles)
Width: 35 Feet
Bridge Construction: 1886-1889
Railroad: 1889-1974
Reopened as walkway: October 3, 2009
By: Rosa L. McArthur